New Member
Posts: 6
Joined: Mon Jan 07, 2013 11:34 pm
Will he be allowed to have 4 different attires? Which colors and patterns will he have in prison if he could? Will their be a Tiger Sword Prison Fire Pro Edit?
---
Alright that one was actually funny
Makar17 wrote:My mouth was telling me it was delicious but my brain was calling me gay.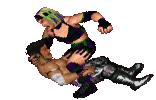 ---
---
---
---
Who is online
Users browsing this forum: No registered users and 4 guests