Current Version
:
v0.0.2 (2016/12/06; December 6th, 2016)
Running Changelog
Version 0.0.2 is now available!
Original post below...
In
another thread
, I had made a throwaway reference to "FPRSaveTool"...
Even though it's nowhere near ready for general use, I thought it would be a good idea to at least introduce it.
FPRSaveTool is (as the name would suggest) a Fire Pro Returns Save Tool. The immediate bad news is that this doesn't provide editing capability since I have no idea how the checksum works. However, I wanted to make this to see if I could figure out the Fire Pro Returns data structures. (and possibly convince JB that I'm worthy enough?? :p)
The program is nowhere near done yet, due to an internal quarrel over the preferred way to show the appearance data for edit wrestlers, referees, and recostume slots. The two options I had in mind are implemented on the Wrestler Appearance tab and the Referees Tab (Appearance section). I kind of like the Referee appearance editor more, but I'm not sure if others feel the same way.
(All screenshots are from an in-development version, not the downloadable version below)
Of course, the most interesting part is the edit wrestler page: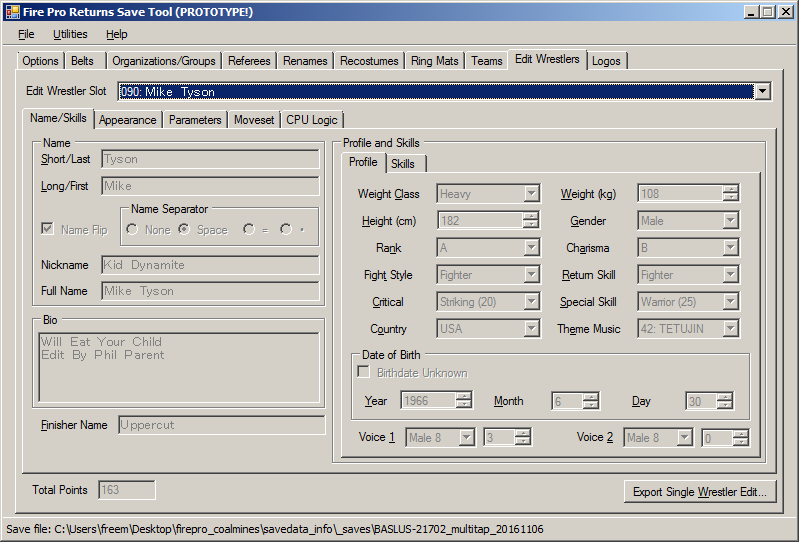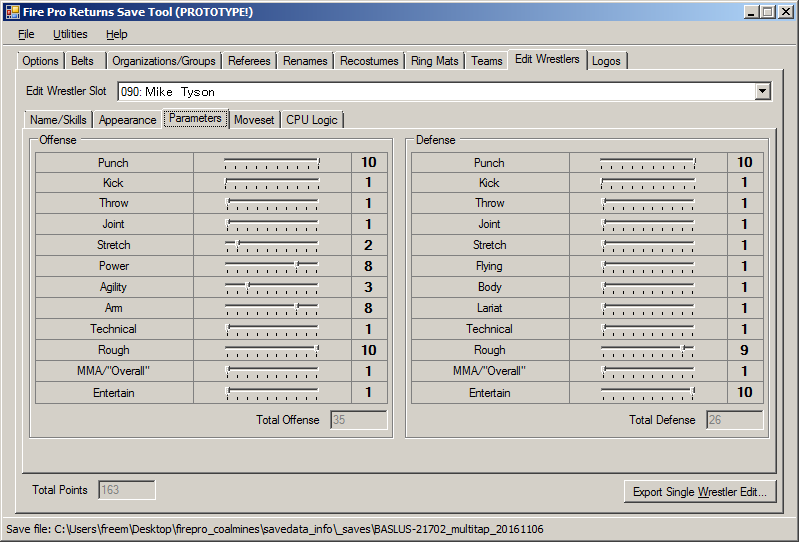 While not every part is implemented, a number of things are being successfully read from the data. I still have not looked into the formats of the Moveset or CPU Logic.
Other screenshots of (somewhat) working parts
Options tab
Belts tab
Referees tab
Ring Mats tab
Of course, this tool will deprecate my logo viewer...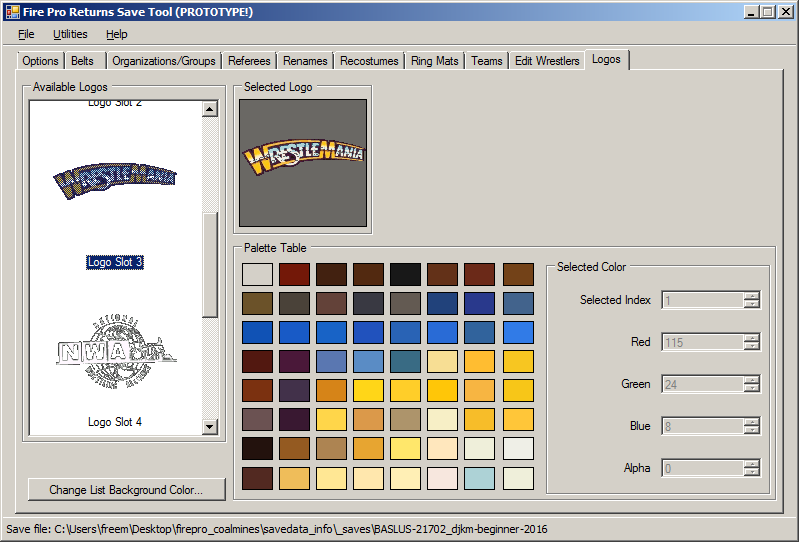 (Logos from
DJKM's Beginner Pack 2016
for demonstration purposes)
About a week or so ago, I uploaded a test version of the program and posted about it on twitter. I didn't immediately post it here because I was worried people wouldn't read the readme... You see, this program only works on the raw save file for the time being, which requires an extraction process (detailed in the readme).
In any case, you can download the first prototype version (v0.0.1) here:
http://firepro.ajworld.net/FPRSaveTool_preview-001.zip
Keep in mind, this is an earlier version of the program compared to the above screenshots. I'm still working on various features, including HTML template export, the CPU Logic interface, and the remaining Appearance parts.
Comments and feedback are requested.